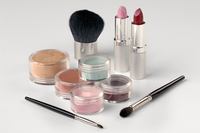 All RJ Mineral Cosmetic products are 100% Australia owned, formulated, produced and packed.
RJ Mineral Cosmetics are known throughout the industry for integrity, reliability and product superiority.
RJ Mineral Cosmetics currently offer over 800 stock cosmetic products from Mineral Liquid Foundation right through to Mineral Mascara, and a complete range of skin care products.
We also offer custom formulations so that your business can stand out from the crowd!
Buy direct from the company that all others are chasing!
We have a wide range of stock packaging from Deluxe right through to economy, but don't worry we still only fill with the best Mineral Cosmetics products available in Australia today, so no matter your market we can help your business grow!
RJ Mineral Cosmetics offer a range of products that are FREE from Ferric Ferrocyanide, Animal products, artificial dyes, FD&C colours, Talc, Carmine (also known as Cochineal), Bismuth Oxychloride, Mineral Oil (and its derivatives) and paraben preservatives.
We also offer a wide range of more traditional cosmetics, so whichever your brand ethos, RJMCI have products that will compliment your business.
For further information on product Insurance, Safety Testing and the Ingredients we choose please see the section 'Product Information' drop down menu.